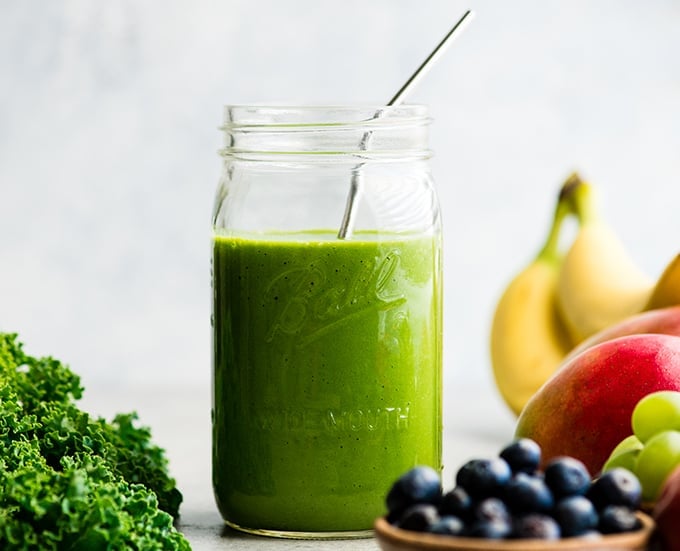 How to make the best green smoothie recipe! A simple green smoothie for beginners that is healthy, tastes amazing, and it's made with 4 ingredients in less than 5 minutes! Plus my tips on meal prepping smoothies!
I drink a green smoothie every day, and have for almost a decade! So this post, explaining "how to make a green smoothie" with all my tips and tricks has been something I've wanted to write since I started this blog! This is a long and comprehensive post and video, so settle in while we get started!
I'll start by sharing how to meal prep smoothies! I'm always prepared to make a delicious green smoothie in a moment's notice. Because every minute in the morning before the kids wake up is precious! I don't want to waste any time measuring protein powder, chopping fruit, etc.
Next, I'll share my favorite green smoothie recipe! It's a simple green smoothie for beginners that is naturally sweetened with fruit (no added sugars) and loaded with greens and protein!
HOW TO MEAL PREP GREEN SMOOTHIES
I think that green smoothies are the best when they're served fresh, straight from the blender. So I meal prep smoothies by having all the ingredients on hand and ready to go. This means I always have my freezer stocked with frozen fruit and greens and pre-portion all of the add-ins like protein powder!
1) FREEZE BANANAS
In my opinion, bananas are an essential ingredient to make the best green smoothies for both natural sweetness and a creamy texture. So make sure to purchase bananas designated to freeze for smoothies when you go grocery shopping!
2) USE FROZEN FRUIT & GREENS
This green smoothie recipe calls for 1 cup of frozen fruit in addition to one frozen banana. Using frozen fruit and greens is key to the thickest, creamiest green smoothies. You'll notice I do not use ice in any of my smoothie recipes, because it waters down the flavor and gives smoothies an icy texture – which I am not a fan of.
I recommend stocking up on frozen fruit in the winter when produce isn't readily available. During the summer, purchase seasonal produce on sale and flash freeze it in the same way as the bananas!
FRUIT TO USE IN A GREEN SMOOTHIE
Here are some suggestions for fruits to use in this green smoothie recipe. In this post I used half mango and half pineapple, which is my favorite combination! Be aware, that if you use darker fruits like blueberries, blackberries, cherries, etc. the color will change and you will likely make a brown smoothie that is delicious but not green in color!