You might be watching your carbs, but that doesn't mean you have to skip one of the best parts of Thanksgiving feast. Indulge on the lighter side and you won't feel deprived one bit.
Here is a recipe to get you started!!  CLICK HERE for the rest!
No-Bake Pumpkin Swirl Cheesecake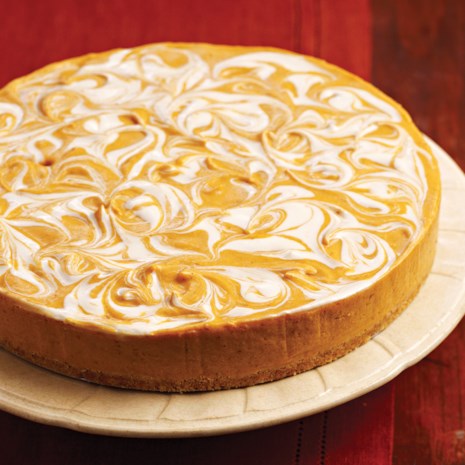 Ingredients
¾ cup finely crushed graham crackers
2 tablespoons butter, melted
1 (8 ounce) package reduced-fat cream cheese (Neufchâtel)
½ cup sugar (see Tips)
½ cup fat-free milk
2 teaspoons vanilla
½ teaspoon finely shredded orange peel
2 (8 ounce) packages fat-free cream cheese
1 (15 ounce) can pumpkin
1 teaspoon pumpkin pie spice
1 (.25 ounce) envelope unflavored gelatin
¼ cup orange juice
Preparation
Prep – 35 m

Ready In  –  8 h 35 m
In a medium bowl, stir together crushed graham crackers and melted butter until crackers are moistened. Press mixture onto bottom of an 8-inch springform pan. Cover and chill while preparing filling.

In a food processor or blender, combine the reduced-fat cream cheese, ¼ cup of the sugar, ¼ cup of the milk, the vanilla, and orange peel. Cover and process or blend until smooth. Transfer to a medium bowl; set aside.

In a food processor or blender, combine fat-free cream cheese, pumpkin, remaining ¼ cup sugar, remaining ¼ cup milk, and the pumpkin pie spice. Cover and process or blend until smooth.

In a small saucepan, sprinkle gelatin over orange juice; let stand for 5 minutes. Cook and stir over low heat until gelatin is dissolved. Stir 1 tablespoon of the gelatin mixture into the white cream cheese mixture and the remaining gelatin mixture into the pumpkin mixture.

Pour pumpkin mixture over chilled crust in pan. Carefully pour white cream cheese mixture over pumpkin mixture. Using a narrow, thin-bladed metal spatula or a table knife, swirl pumpkin and white mixtures.

Cover with foil and chill overnight before serving. To serve, using a small sharp knife, loosen cheesecake from side of springform pan; remove side of pan. Cut into wedges.
Tips: If using a sugar substitute, we recommend Splenda® Granular, Equal® Spoonful or packets, or Sweet 'N Low® bulk or packets. Be sure to use package directions to determine product amount equivalent to ½ cup sugar. Nutrition Facts per serving with sugar substitute: 149 cal., 7 g total fat (4 g sat. fat), 23 mg chol., 331 mg sodium, 12 g carbo., 1 g fiber, 9 g pro. Exchanges: 1 other carbo., 1.5 fat Carb choices: 1
To make ahead: Prepare as directed through step 5. Cover and chill for up to 24 hours. Serve as directed in step 6.
Nutrition information
Serving size: 1 serving
Per serving: 148 calories; 7 g fat(5 g sat); 1 g fiber; 12 g carbohydrates; 9 g protein; 23 mcg folate; 23 mg cholesterol; 3 g sugars; 6,174 IU vitamin A; 4 mg vitamin C; 111 mg calcium; 1 mg iron; 331 mg sodium; 209 mg potassium
Nutrition Bonus: Vitamin A (123% daily value)
Carbohydrate Servings: 1
Exchanges: 1½ other carb, 1½ fat