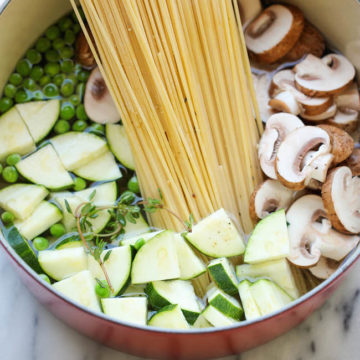 ONE POT ZUCCHINI MUSHROOM PASTA
A creamy, hearty pasta dish that you can make in just 20 min. Even the pasta gets cooked in the pot!
INGREDIENTS:
1 pound spaghetti
1 pound cremini mushrooms, thinly sliced
2 zucchini, thinly sliced and quartered
2/3 cup peas
2 cloves garlic, thinly sliced
2 sprigs thyme
Kosher salt and freshly ground black pepper, to taste
1/3 cup grated Parmesan
1/4 cup heavy cream
DIRECTIONS:
In a large stockpot or Dutch oven over medium high heat, combine spaghetti, mushrooms, zucchini, peas, garlic, thyme and 4 1/2 cups water; season with salt and pepper, to taste.
Bring to a boil; reduce heat and simmer, uncovered, until pasta is cooked through and liquid has reduced, about 8-10 minutes. Stir in Parmesan and heavy cream.
Serve immediately.