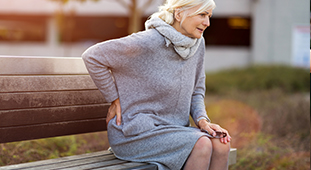 Wondering how to increase your hip mobility? One way is to incorporate these eight exercises into your everyday routine — no special equipment needed!
1. LYING HIP ROTATIONS
This easy warmup exercise will get you into the rhythm of your hip exercise routine. Start by lying on your back and bending both of your knees. Cross one ankle over the opposite knee, and rotate your hi
ps in and out for a good, deep stretch.
2. PIRIFORMIS STRETCH
If you spend a significant part of your day sitting while you work, the muscles in your rear — like the piriformis — can become tight. Loosen your lower body by crossing one leg completely over the opposite leg. Your knee should cross over your thigh. Pull your crossed knee toward the opposite shoulder and hold before switching legs and repeating.
3. BUTTERFLY STRETCH
The butterfly stretch targets your groin muscles and helps to improve your hip rotation. Keep your back straight and sit upright with your feet together. Using your hands, press your knee toward the ground and move your groin to your heels. Repeat on each side.
4. FROG STRETCH
To complete the frog stretch, get in a position on your hands and knees, with your knees as far apart as you can comfortably manage. Rock back and forth, keeping your feet on the ground and your toes pointed outward. Repeat this motion a few times before relaxing into the stretch.
5. KNEELING LUNGE
Get into the lunge position, with your knee and foot hip-width apart. Keep your hips square and your upper body straight. Lean forward into the lunge, then pull your back knee off the ground and toward your body in order to fully flex your hips.