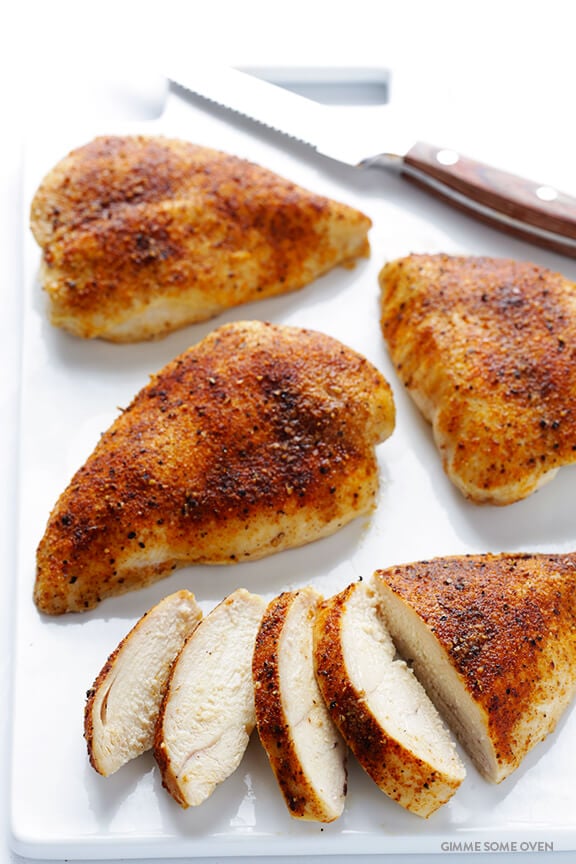 Alright, so here's the secret! To make perfectly baked chicken bbrrreasts, you simply need to follow this 5-step acroymn: B.B.R.R.R.
Brine
Brush
Rub
Roast
Rest
Step 1: Brine
I'm telling you — this step is an absolute must for anytime you want to bake chicken breasts in the oven. Brining chicken is super-easy, it makes your chicken extra juicy, and best of all, it can be effectively done in just 15 minutes. Plus, if you brine chicken in lukewarm water, it also helps bring the chicken to room temperature, which makes for more even cooking. Win-win!
To brine chicken, simply fill a big bowl with lukewarm (not hot) water. Stir in a handful of salt until it mostly dissolves. Then add your chicken breasts and let them sit in the saltwater to brine for at least 15 minutes. If you are doing this in advance, you can cover and refrigerate the bowl of chicken and saltwater for up to 6 hours. But you don't want to let the chicken brine for much longer than that.
When you're ready to go, remove the chicken from the brine. Give it a good rinse it with cold water to wash off the salt, and then pat it dry with some paper towels. And voila — your chicken is officially brined.
Really, don't skip over this step! It makes a world of difference.
Note: That said, some store-bought chicken breasts are now sold pre-brined. So double-check your packaging beforehand. And if your chicken has already been pre-brined in a sodium solution, just move onto step two. 🙂