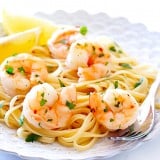 This skinny shrimp scampi is big on flavor, but much lower on fat and calories than the traditional version.
INGREDIENTS:
12 ounces whole-wheat pasta noodles (I used linguine)
1 Tablespoon butter
1 shallot, peeled and thinly sliced
4 cloves garlic, minced
1 pound raw shrimp, peeled with tails removed and patted dry
1 teaspoon salt
1/2 teaspoon crushed red pepper flakes
1 teaspoon black pepper
1/4 cup chicken stock
3 tablespoon white wine
2 tablespoon fresh lemon juice
1 tablespoon lemon zest
toppings: chopped fresh parsley and (optional) freshly-grated Parmesan cheese
DIRECTIONS:
Cook pasta in a large pot of 
generously-salted
 water until al dente, according to package instructions.
Meanwhile, heat butter in a large saute pan over medium-high heat. Add shallot and garlic and saute for 2 minutes, or until fragrant, stirring occasionally. Add shrimp and immediately season (sprinkle) with crushed red pepper flakes, salt and pepper. Continue sauteing the shrimp with the garlic for about 3-4 minutes, or until pink on both sides and no longer opaque.
Add in the chicken stock, wine, lemon juice and lemon zest, and stir to combine. Let the mixture continue cooking for an additional minute to boil down, then remove from heat.
Drain the pasta, and serve topped with the shrimp scampi. Sprinkle with desired toppings.